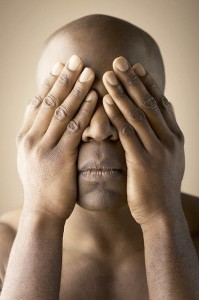 As I climbed the subway stairs on an unusually warm and sunny Spring day, I saw the shadows of two people in conversation. I could see from their body language they were in a conflict. One was male and the other female. As I waited for my shuttle, I could not take my eyes off the way the young man, likely in his early 20s, was speaking and gesturing towards the young woman, at best 18 years old. I stopped the music blaring in my headphones to listen.
"I'll beat the shit out of you, b*tch. You think I won't. Keep talking slick to me!" My heart sunk and the heat of the day intensified. The young woman stood leaning against the wall as her companion berated her. He then demanded her phone and said he'd call whomever she had been speaking to "speak to them." She refused. The more he yelled, the less she engaged him. Enraged by her silence he continued on, "Oh, so you think you're smart? You think you're a woman now? You ain't no real woman! You're immature. You're a little girl. You spend your money on dumb things like clothes and red bottoms [the popular and expensive Christian Louboutin heels]  You ain't not woman, I'm a man. I take care of myself. I get money. I put a roof over my head. I'm in school."
As he barked, I then noticed something: I was the only one watching. We were on 145th and Saint Nicholas in Harlem at one of the busiest train stations in New York City and the corner was well populated. But no one, besides me, was paying attention. Read More.