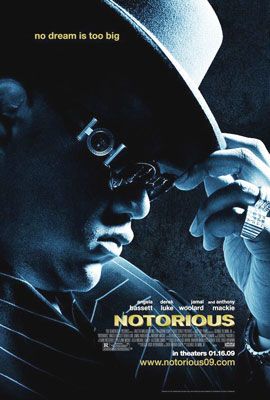 So I had no intention of writing a review of the new movie on Biggie, Notorious, but the reviews that I've been reading have left me with no choice. I will keep my comments brief and give you the punchline upfront. The movie sucks, if you have ten dollars I can think of plenty of other things to spend it on. In fact, if you were going to take someone else, you two can put your money together and get two snuggies … they even come with a free reading light. Alright, to my review/thoughts.
I got a chance to see the movie at screening in Chicago, which means I spent no money on it, meaning I'm as objective as they come… well as objective as I can be. I'm a Hip-Hop head, I consider Biggie one of the all time greats. I love Hip-Hop. I am a tough critic of movies, so going in I decided to take it easy on the film. Coming in, it was my hope that Notorious was not another Too Legit. I hoped that it would capture the complexity of cat who could drop Suicidal Thoughts and Dreams. I wanted the movie to really get at the changes that Biggie underwent that led him to end up ensnared in a tumultuous battle with a man who he felt taught him the game. I wanted to see how the cat who called himself "Black and ugly as ever" was able to become a sex symbol and the poet laureate for the hood. Instead, I encountered a movie that is destined to be a BET Blackbuster hit that will certainly be on Saturday day afternoon rotation soon enough. Now if you're reading this and saying "what's wrong with BET Blackbuster movies?" Stop reading, really dog? How did you even get to this blog?  ;)
Back to the task at hand. There are a few MAJOR issues with the movie. First, the script must have been inspired by MC Lyte's early work, cause it was paper thin (not a diss to MC Lyte, really a diss to the writers). It was like a long ass Vibe article that was uncomplicated, trite and lop-sided. Obviously it was supposed to tell Biggie's side, but when we got to the East v. West beef part of the story and Biggie was shown to be  "above the fray" I had already grown tired of yelling to myself, "this is some bull****."
The second issue is that there was very little acting in the movie, but there were a whole lot of impersonations. I, nor the folks sitting with me, could control our laughter every time Derek Luke did his Diddy impression. It was like watching an Aries Spears skit, spot on, but it was so ridiculous that it could only be parody. Don't believe me, watch it yourself. Then can someone explain to me why every time Puffy was on screen his lips looked like he had just finished off a 2 piece from Popeye's? Can someone tell me why Lil' Cease looked pre-pubescent the whole movie? Can someone tell me why Lil' Kim couldn't keep her clothes on in more than two scenes? Come someone tell me where and what kind of accent did Voletta Wallace have? And will someone please tell me explain to me how Puffy was the Dalai Lama with all his "wise counsel"? All of it was like a Vanilla Ice album (get it? to the extreme).
A third issue was that none of the characters had depth. During the course of the movie I managed to not become connected to anyone! Not Biggie when he was locked up. Not Kim when she was "the other woman." Not Faith when she was cheated on. Not the White girl when Faith whooped her butt. I swear I was reading characters written by a high schooler they were so flat.
I could document the many issues with this movie, like the way Biggie's cadence was off, how lyrics were flubbed, but that ain't even the point. I'd rather just tell you what I never felt. I really, really, really wanted to get pulled back to that golden age in my mind of Hip-Hop. I wanted to hear a beat drop and have my head compulsively nod and remember what it felt like to lug around timbs in the cold, to floss in sun, or to consider the value of my life. These were the things Biggie meant to me and the movie captured NONE of that. As a fan of the man and the music, this movie fell short from start to finish. When the movie ended I wanted to leave and put on a Mister Cee Mixtape like the "Best of Biggie" to cleanse my eyes and ears of the visual catastrophe that should be called "The Worst of Biggie."