Of Mr. Soulja Boy Tell 'Em and Others*
Soulja Boy is getting berated by cats all over the internet. While I could easily make this post "beat the pinata aka Soulja Boy." I think his commentary over the past couple of months really displays a real sociological pattern (yeah, sorry I always gotta bring that in) about youth, particularly Black youth. Two things stand between young cats and older generations: history and time, let me explain.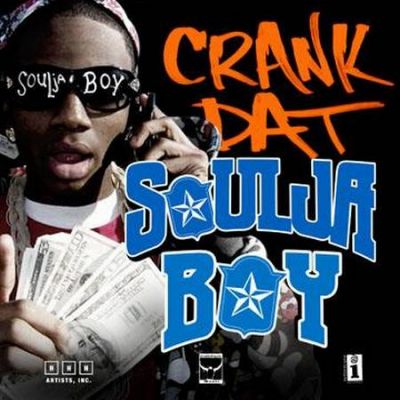 History
Recently, Soulja Boy, when asked by Toure, who he would like to meet responded,
"Shout out to the slave masters! Without them we'd still be in Africa."
He continued on,
"We wouldn't be here to get this ice and tattoos."
Yeah… you read that right. While I don't doubt that Soulja Boy was getting his clown on to a degree, as many young folks do, I'm also sure there was some truth to this. His quote made me shake my head, but also made me immediately think of Keith Richburg, the journalist who wrote "Out of America: A Black Man Confronts Africa." While I tend to think folks who write on their sunglasses with puff paint or folks who can start a sentence with, "despite the legacy of slavery, black Americans are fortunate to have been born in the U. S…" shouldn't be taken that seriously, I'll make the exception in this case. Richburg all but makes the same point that Soulja Boy does, but this grown reporter, who has lived on the continent, went as far as to write a book and go on the speakers circuit about his gratitude for being born in the United States thanks to the Transatlantic Slave Trade.
Black folks often look at the conditions on the continent and feel more disconnected than ever. Why? Could be self-hatred, could be confusion, could be that you've been listening to this clown. Regardless, all of those reasons fundamentally come down to a lack of history. We must deal with the reality that we still do not accurately teach our people (both young and old) about the maafa. We don't actively challenge our schools to move beyond cookie cutter curriculum that begin the story of Black people with the transatlantic slave trade. We do not teach our children about great ancient African civilizations or great contemporary African nations. We don't teach young folks the diamonds that they crave come at a severe price. So why would we expect a 18 year old to think differently? Why should we expect a 40 year old who was taught to hate the roots to think any differently?

Time
A couple of month ago Soulja boy got into it with Ice T and the back and forth was pretty hilarious. While I don't want to make a mountain out of molehill, Soulja boy's attitude and orientations aren't entirely insane or foreign for young people or to hip-hop. This is not new, this generational battle has been going on since the beginning rap, that's why in 1987 on "I'm Still Number 1″ KRS said,
Rap is still an art, and no one's from the Old School
cause Rap is still a brand new tool
I say no one's from the Old School cause Rap on a whole
isn't even twenty years old
Fifty years down the line, you can start this
cuz we'll be the Old School artists
Krs' cry of course went unheeded and lines get draw in the sand. Because so much of rap music is about defining who is the best, and for some reason rappers don't know what retirement means (the only thing that seems to get folks to stop putting out albums is their death, well kind of) young cats have to share the stage with old cats. Because Hip-Hop is a form of music that is forever young, the idea of 'respect your elders' seldom seems to get practiced. The occasional head nod to a former great is always soon followed by a line about usurpation rather than the passing of the torch. Is this just in Hip-Hop? Definitely not. Eli Anderson's work on Old Heads versus Young Bulls reminds us that within our communities the generational gap has meant that wisdom of the old and the energy of the youth often don't meet. While this gap may seem inconspicuous, the lack of shared experience and value between young cats and older guys continues to contribute to community decay. As Biggie said, "Look at our parents they used to take care of us, look at em now, they even fucking scared of us." The costs of elders and youth being disconnected is wisdom.
It's easy to just say young folks need to listen to their elders, but would you listen to an elder who told you to "eat a dick?" The reality is that sometimes the lines of division between the young and the old are equally at the fault of the old, who fail to meet the young where they're at. When I hear cats talking about Soulja Boy or other young people who make statements that result in folks deeming them "ignorant" or "embarrassing", which they may be, I begin to wonder what the elders have taught them. While their words may unsettle me, I know in any community it is the job of the elders to teach the youth. As people grow older, they look at the younger generations and complain about their ways. I usually call this "old Black man disease" (please see Bill Cosby for the past 3 years if you need a full example) but you don't have to be far gone from youth to do this. As we age and change, I pray we, the younger elders, can bridge this widening gap. Because if I look out and think our young people are idiots, I wonder, "who among the elders took the time to teach them any different?"

*This title for this post was straight jacked from Du Bois' chapter in Souls of Black Folk, "Of Mr. Booker T. Washington and Others." Get familiar.