For days, months, and years family and friends of Troy Davis have been praying that his execution would not occur. At 11:08pm he was executed by the State of Georgia. In the past month, activism around Troy Davis's case reached a fever pitch as Amnesty International, the NAACP, celebrities and the twitterverse raised his name from obscurity to a global trending topic. The pain that many felt realizing that no matter the advocacy offered, his life would not be spared. This should not make us feel futile, instead it should make us see where we need to go from here. The death penalty must be abolished and we must all check our conscious to assure that we move this country's moral barometer ahead. This year alone 35 people have been killed by state governments.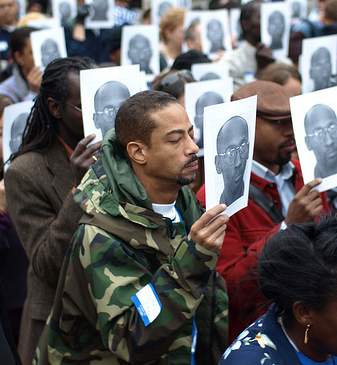 I recently had a conversation with a friend who lost a family member to homicide in the last month. She confessed to me that she used to think that considering the death penalty was unconscionable, but in her current state she too had begun to weigh it as an option. Her arrival in to the "gray area" of ethics guided by her personal loss reminded me of Martin Luther King's words, "The ultimate measure of a man is not where he stands in moments of comfort and convenience, but where he stands at times of challenge and controversy." King understood that in midst of challenge, the ability to determine right from wrong is often obscured. This lack of clarity is not just individual, it happens within this country's justice system making the death penalty unequally and mistakenly applied. With 273 post-conviction DNA exonerations in recent years, it is clear that a judgment does not equal truth. When we leave the death penalty on the table we yield an irreversible option to conclude a process that is rife with margins of error.
When I asked my friend if she would support a family member going out to kill the person(s) they suspected of killing her cousin she said no. I cannot justify vengeance killing by an individual any more than I can justify vengeance killing by the government. While some may suggest closure as the reason for carrying out killing, I cannot understand the emotional calculus that suggests one can become whole by taking the life of another. In capital punishment cases, the loss of a life has already occurred and nothing can serve to return that life.
The death of Troy Davis occurred at a moment when the world was watching and still 3,250 people remain on death row. Most of their cases will likely get far less attention than Davis's, but we deserve to give the death penalty equal consideration. In the many conversations about Davis's case I was asked, "Do you believe he is innocent?" I never answered that question because neither guilt nor innocence could convince me to leverage the ultimate sentence without ultimate knowledge. My love for humanity, possibility, and community is far too large to believe that gray area of vengeance is one that individuals or the government can or should remain. May the weight of our hearts over the loss of lives, match our commitment to stop the taking of more lives.
For more resources on [ending] the death penalty please visit:
Campaign to End the Death Penalty
Death Penalty Information Center