This is my reflection on the principle of Ujamaa – Cooperative Economics…
The title of the post is a variation on a sage comment by bell hooks who stated,"… black self-determination is not the same as black capitalism."
This excerpt of her quote summarized many of the issues that I see floating around now when we discuss the evolution of Black Power and its evolution into cultural practice and social organization. In this new constellation, the new Black Power is seated in Washington DC on Pennsylvania Avenue, self-determination has become "grinding" for you own good, and cooperative economics has been transformed into buying Black. While I am all for the evolution of ideas, when the spirit of the thing is lost, the question of "how does the individual part relate to the whole?" becomes all the more critical. Last year, I wrote about the issues of reducing Ujamaa to buying Black, which I still stand by, but we must also realize that true cooperative economics demands the sharing of investments and rewards for our community which can include but is not limited to monetary contributions. It is true collaboration in the (financial, social, and cultural) economy of our community's which will keep our collective and individual mouths fed and determining the direction of our community.
What if the investments we made today were in community? To most, this means "buy black today" but couldn't we also suggest "donate Black today" or "volunteer black today"? The idea that consumption is the only way to participate in economics is misguided, there are multiple way to participate in economics that are not just based in consuming but are based in building. Beneath the image I offer some suggestions for economic contribution for spenders, philanthropists, and activists: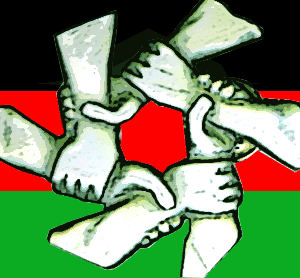 For spenders:
I recently tweeted about The Power of One card which I was introduced to at my favorite uptown bookstore Hue-man. The card is a Harlem based Susu that is designed to provide a reinvestment into the community via programming and provide members with discounts at participating vendors. This type of program is particularly important in a community like Harlem where we, people of African descent, compose the majority, but are the minority of business owners and often have our interests and needs overshadowed by those concerned with capital first and people second.
For philanthropists:
Our communities are in dire need of more resources to deal with the host of issues that we face. When I talk about "giving" folks often hit me with, "I ain't got it." While times are hard, a donation of 20 dollars can really help boost an organization's ability to work in the community. A gift of twenty dollars is often what many of us spend on a meal. Could you carry a lunch twice a month or dine in one more night? We show what we care about by what and how we invest in it. If you don't have the time but you have a dime, please spend it with organizations that deal with the issues you care about. Recently I've been really concerned with issues of sexual violence, grassroots community programming, youth advocacy with social media and homelessness, so these organizations have gotten my attention. No you can't donate everywhere, so like all investments, make them wisely and with care so that they'll have the greatest (community) return.
For activists:
I listen to Jay-Z and find him to be a wise man (I know some of you are trying to take away my "conscience black card" right now, but hear me out). Jay has been know to be a huge philanthropist and on Minority Report he reflected on philanthropy and Hurricane Katrina, "Sure I ponied up a mill(ion)/But I didn't give my time/ so in reality I didn't give a dime or damn/ just put my monies in the hands of the same people that left my people stranded/ Nothin but a bandit/ just left them folks abandoned/ damn that money that we gave was just a band-aid." Often times we think of investment in our community as ones that come from "giving back" and "donating" but there are many things that your dollars cannot do, but you as a person can. Whether it's mentoring, spending time collating papers, or donating your voice to share perspective, there is a need for you to give more than from your pockets. The intangibles often mean just as much if not even more than marks in a ledger book.