So in bizarro world news yesterday, my phone and twitter started blowing up about the commuting of sentence that John Forte received by outgoing (I just like saying that) president George W. Bush. As my friend Marc Lamont Hill put it, "The irony is that George Bush frees a Black man that Bill Clinton locked up." While I savor that irony and celebrate John Forte's re-entry to a society outside of the bars of prison, I'm worried for two reasons. First, we've been asking the wrong questions. Second, we don't realize why Forte is free and why Mumia will likely remain locked.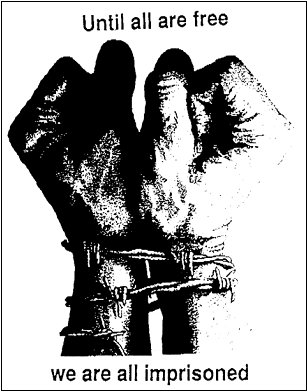 Ask the wrong question, get the wrong answer.
All sorts of people have been asking, "Why did John Forte get freed?" I think that is the wrong question, but since it's been asked, I'll answer it. Ostensibly the reason that John Forte is free is Carly Simon. However since pardons do not require a rationalization, we won't know for sure "why" Forte is free. The question I wish folks would ask, was "Why was John Forte locked?" And not in a literal sense, he was arrested for "moving weight." I want a discussion of the reason he was imprisoned, mandatory minimums. Mandatory minimums were one of Reagan's key policies in the War on People of Color and Poor People Drugs. Forte's irrationally long and harsh imprisonment should be the larger target and issue of concern for us. While he is now free, millions of our brothers and sisters remain locked up because of these draconian laws.
Star Power does not equal Freedom
Because I have some of the best friends in the world, when I started to call around and tell them about Forte's freedom their responses were similar. Many said, essentially, "So John Forte is free, but Mumia is still locked?" For the nearly 30 years, Mumia Abu-Jamal has been tossed around the "justice" system for his alleged role in the death of police officer Daniel Faulkner. There are a number of issues with the trial and conviction of Mumia Abu-Jamal and there remains warring factions around whether he is innocent, suffered from a mistrial, or a murderer. Regardless of your position, the striking similarity between his case and Forte's has been the appeal of celebrity power. While Carly Simon was successful in lobbying to get Forte freed, a cadre of celebrities and public figures like Danny Glover, Susan Sarandon, and Nelson Mandela have not managed to get Mumia a fair trial or get him released.
So what gives? Why would Mumia be locked and Forte free? In my opinion it comes down to what Derrick Bell calls interest convergence. If we look at what people stand to gain from Forte's freedom and what they will lose, we see Forte's freedom is low cost to most interested parties. The cocaine he was arrested with was never delivered to anyone, didn't cause a death, so arguably it was a "victimless" crime. Bush can pardon Forte and get a big hurrah from White folks, Black folks, and Hip-Hop folks. These cheers come without us critically addressing the laws that put Forte and masses our brothers and sisters behind bars and on parole.
On the other hand, the freeing of Mumia would be very high stakes. Freeing Mumia would mean freeing one of the most visible political prisoners in the world. If Mumia were freed, it would mean that Maureen Faulkner and many of residents of Philadelphia would drop their Geno's cheesesteaks and begin to riot.
The divisive racial tensions around Mumia's case would be re-opened in a public way, but those who sided with the State (read: White authority in the form of the police) would "lose". The long silenced, dismissed and ignored voices of Mumia and his grassroots supporters would have to be acknowledged. In short, the system of "in"justice would be exposed.
For Bush, freeing Forte is a small step that puts a notch on his belt of "progressive" politics. People will point to the diversity of his cabinet, his willingness to put people of color in positions of power, and the freeing of John Forte when critics characterize him as insensitive the issues of Black and Brown folks. No the freeing of Forte or the appointment of Rice don't balance out his actions, but politics is probably more about perception than reality. As we celebrate the perception of justice, let us remember the reality of injustice that our folks remain lodged in. Free Mumia and all political prisoners!