It's the most wonderful time of the year … Kwanzaa! No, I'm serious! I've come to cherish Kwanzaa as an occasion to reflect deeply about principled existence and plot our course forward. In the spirit of Kwanzaa, and giving myself a break from grading, I've decided to reflect on today's principle: Kujichagulia – Self-Determination and Django Unchained.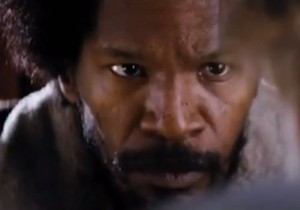 First things first, I am a Quentin Tarantino fan. This should not be interpreted to mean I stan for the guy. I remember seeing Pulp Fiction in high school and falling in love with it. Subsequently I went out and to dig up Reservoir Dogs and have since followed most of his catalog. I have to admit he's an excellent film maker with some deeply problematic politics around race and gender. I can analytically separate the two, but figuring out if I really can or do like Tarantino is a whole 'nother conversation.
Second, Self-Determination is probably one of the most important things to me. When asked my politics I often simply respond, "self-determination." The classic definition associated with the Kujichagulia is, "To define ourselves, name ourselves, create for ourselves, and speak for ourselves." I think that what you are called matters (don't believe me? just say Dumi "isn't your real name" and see what my response is). I believe that defining our condition, our responses to oppression, and creating our path is the height of our political and spiritual potentials.
So now onto Django Unchained.
When I first heard of Django Unchained I thought two things, "ugh oh, Spike Lee's not gonna like this" and "I loved Inglorious Bastards, I wonder will it be like that?" Well on both cases I was right. With good reason, Spike Lee is concerned that Tarantino's portrayal of slavery will be off-mark and that Tarantino's general regard for Black people is questionable. After all, for hundreds of years when White men have loved the word Nigger or Nigga so much we've been right to question their affinity for Blackness, today is no different. I think Django Unchained was much like Inglorious Bastards, comical, gory, and decontextualized enough to be watchable by all without the pesky feelings of guilt or animus.
The major problem is that Tarantino is Tarantino. Witty, irreverent, violent, and hyper-masculine in a film that could (note that I said could not should) be treated with more care. Tarantino has never been interested in carefully addressing an issue, instead he's an over the top film maker (in my non-film critic opinion). He has been heavily influenced by Westerns and Blaxploitation and Django Unchained is just that – a Western Blaxploitation film. I think its strength and weakness lie in this fact.
I love a number of Blaxploitation films (Coffy is my favorite) but I have to acknowledge as potentially liberating as they could be, they fall far from the mark of actually letting us speak for ourselves, determine our path, and create the world that we want. In classic Blaxploitation fashion Django is a bad nigger and is almost a bad nigga (word to R.A.T. Judy). In all senses of the word he is spoiled property, lawless, dangerous to the order around him, but still held in by that world. When Django draws his gun someone White is gonna die, it's just that we know it's only going to be "the bad" White folks. While Django is the best shot in the West you never think he's going to shoot his white partner Dr. Shultz and Tarantino writes the other Black characters as too stupid to shoot anyone but who they are told to shoot (I'm sure one of those brothas on that chain gang would've freed themselves and Django from the jump).
I have seen a split response (though definitely not 50/50) on Django among my friends in looking over facebook, twitter, and in casual discussions. There are a lot of folks who saw Django and loved it! Some of my more radical leaning comrades said it was brilliant and sweet song of revenge for our enslaved ancestors (yeah, some folks were that dramatic! I'm sure subsequent discussions will likely drag them back from these hyperbolic reflections). Another cadre has decidedly said the film was unfulfilling, obsessed with "the n word", and another liberal White fantasy about slavery and its (dis)contents.
I think both are equally right and wrong. The first group misses that Django is as programmed and scripted as any "Black liberator" in a Blaxploitation film. He does nothing that is beyond his own personal interests and has no connection to his community other than saving his and his wife's butt. Look at Django's dialogue with others who who are enslaved, sparse yet telling (even in the final two scenes). When Django speaks white folks listen because of the gun and Black folks listen because they're (in Tarantino's imagination) too dumb to do anything else. Django Unchained is not about creation of maroon colonies, it's not David Walker's call to arms, it's not Harriett Tubman's "freeing a thousand slaves and could have freed a thousand more if they knew they were slaves." It's a portrait of a super human bad nigger who gets revenge and his prize (yes, women are prizes in this tale).
Django however is a tale about manumission, about breaking Southern race rules, and limited-justice being served. The film is written in such a way that in 2 hours and 20 minutes the audience rarely has to contemplate the ills of slavery as connected to their legacy or inheritance. Instead, you get the "privilege" of a far out tale without the icky feelings of contemporary inequities. I didn't expect Tarantino to really do "the peculiar institution" justice, but I was amazed at how he could deal with many elements of slavery without making viewers grapple with racial memory or reconciliation (the dog scene largely being the exception).
All in all, Django is a good movie, but it's not a movie about actual self-determination. Django "settles some scores" but never really "rights the wrongs" of the institution of slavery. Admittedly that's a tall task for a movie, but don't we go to movies to see the impossible if not the improbable? Django Unchained is so important because as Salamishah Tillet pointed out there are so few popular movies that wrestle with slavery and in a moment of racial amnesia we can identify with Black individual success but collective Black progress is left unturned.
In fact, I think there will be more Djangos–good films with kick ass characters that speak to a racial past– but I dream of the day that we (Black folks) are able to write ourselves into the pages of slavery's past with the vibrance, diversity, genius, and power that we actually exhibited. As Anna Julia Cooper told us, "Only the BLACK WOMAN can say "when and where I enter, in the quiet, undisputed dignity of my womanhood, without violence and without suing or special patronage, then and there the whole Negro race enters with me." We need more griots who understand our lives across gender, class and sexuality. Telling our stories is difficult work, but people of African descent has specialized in the impossible and done it against all odds. I guess we're simply being called to create ourselves anew, but more fuller whether in movies or in our daily lives.