Recently, California Superior Court issued a ruling that gutted teacher tenure laws in the state. I was surprised /disturbed at the ruling for a number of reasons. First, I found the reading of the social science evidence on "effective teaching" very lop-sided and not inline with what most experts in education are saying. Second, and more importantly, the ruling used Brown v. Board of Education as part of the rationale for striking down five elements of teacher tenure. The plaintiffs claimed and many cheering now believe that teacher tenure is limiting the opportunities that Black, Brown and poor students have. In the Op-Ed below, I break down why this wrong and why there were no winners in the Vergara case.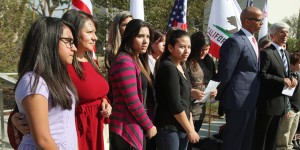 On June 10th, a Superior Court judge in California struck down California's teacher tenure laws. While you may not be a California resident, I can tell you this is going to matter for your state, your children and your schools. In the national debate on educational reform, one of the most vilified terms is "tenure." The Vergara case on its face appears to be about increasing student opportunities, but in reality it is all about weakening both the diversity of the teaching force and teachers' labor protections. This is not a case of students' interests winning out over teachers': there are no victors in this decision.
What is tenure? First, tenure is different at the K-12 level and the higher education level. As a college professor, tenure is a property interest in one's job, roughly the equivalent of becoming a partner at a law firm or medical practice. It makes the person with tenure a long-term part of the management of the business or institution.
But this is not the meaning of tenure in K-12 education—tenured teachers are not like law firm partners (if you don't believe me ask a teacher to see their paycheck stub!) For educators of the nation's youth, tenure means the right to due process.
Read more at EBONY