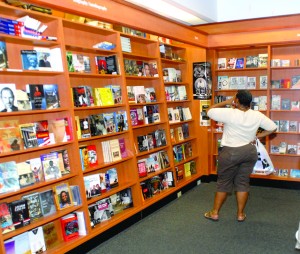 A sacred space is disappearing from our communities with too little fanfare: the Black bookstore. Recently, one of the largest Black bookstores in the nation—Hue-Man Bookstore—announced it would shutter its doors in Harlem, the proverbial capital of Black America. Hue-Man is just the latest in a line of Black bookstores in particular, and bookstores in general, that are disappearing from the urban landscape. As bookstores continue to go out of business— if we're not careful—a culture of literacy, interpersonal engagement and community building may disappear with them.
I am part of the problem. I spend more time and money purchasing books online than going into brick and mortar bookstores. But there was a time when the bookstore was one of my favorite destinations because it held a wealth of information and people who showed me another side to my community, culture, and intellectual life. Black bookstores have never been mega-stores like Barnes & Noble but often have been small individually-run libraries of community enrichment.
Additionally, I was featured in video for the Manhattan Times that discussed the closing of the Hue-Man. Special thanks to Sherry Mazzocchi. Also, don't forget to support Hue-Man at their online portal and look for pop-up events in the coming months.