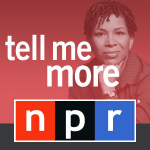 Last week, I had the pleasure of being on NPR's Tell Me More with host Michel Martin to discuss the Vibe Article, "The Mean Girls of Morehouse." The conversation was really interesting as we were joined by Aliya S. King, the author of the controversial piece, and Brian Alston, one of the students profiled in the article. The article's publication has caused a firestorm that has raised some important challenges to our community around masculinity, sexuality, and race. Take a listen to the piece here.
For some evidence of the percolated conversations, check out this clip of brothers on the yard discussing the article and the greater community.
If you cannot see the video, please click here.