I often spend time thinking and writing generically about the ancestors and the energy and guidance that they provide for us on our path but sometimes you realize how real and specific those ancestors are/were. Last night, as I was surfing the internet casually, I came across a blogpost/tribute to Charles Huntley Nelson. Nelson was my painting instructor at Spelman when I was attending Morehouse. Around the AUC the resident painting instructor was Arturo Lindsay, an artist who was revered throughout the African Diaspora, but he was on sabbatical when I was to take his class. I remember being disappointed that I wouldn't study under Lindsay. Instead I was to be instructed by some guy named "Charles Nelson." I remember feeling robbed, given that I had spent copious hours (I probably spent way more hours in undergrad doing art than studying sociology) darting through the painting studio where I often found Lindsay working and felt as if it was a rite of passage to take painting with him. Thankfully, I experienced a different rite of passage when I took the course with Charles. A time and a course that I would not trade.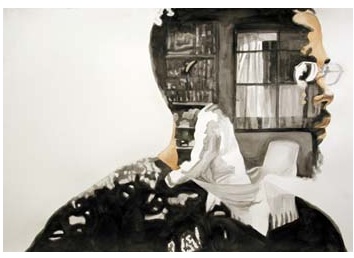 Charles was a young guy, not much older than me having just finished up his MFA from Howard. When I walked in the first day it was clear he was soft-spoken, a bit reserved, and awkward in a way. But these features somehow drew me to him. Though he was the most junior on the faculty, I can say that I honestly took his critique more seriously than any other instructors I had during my artistic training. I took him seriously because I felt his love for producing art that was present, past, and future tense at once. He became my favorite professor in Art at Spelman because I felt "he got me." Charles got me because he made art that was loosely yet well crafted, that was hip-hop/not hip-hop, that was political/non-political, that was racial/post-racial, that engaged the audience, that said fuck you to the audience, that critiqued the participants, that loved the participants. His work represented the reality of Black masculinity in this country: coherent contradiction. In sum, he produced the work that I had dreamed of producing since I was a teenager and continue to dream of today. Whenever I heard ruminations of artists that were on the cutting edge or emerging from the Atlanta scene I always would feel a bit pissed that his name was not mentioned (he was not only tied into the Atlanta Art scene but was also part of its life blood), but also I felt a bit of pride because he was the best kept secret, you know "the next big thing". Those were my dreams, I'm not sure they were his.
The reality is that I wasn't the closest to Charles, but he had a huge impact on my life. I never got a chance to see Charles again after I finished at Morehouse but we emailed me a couple of times after college to check in. His work was always dope to me and a couple of years ago I even worked extra hard  to steal an image of his site for a blog post (yeah, if you're reading this from the ancestoral realm, you caught me, but I didn't put in on a tee shirt of nothing like that, chill!). Each time I saw his updates on shows and installations I was "proud" of the work he was doing. To be honest, I'm not sure he would have accepted the "proud" thing, especially since he influenced me way more than I influenced him. Not to mention, in my experience, he was the kind of dude to shirk off praise and quietly throw a middle finger to affirmations that were half-earned. And if you know me, I appreciate that sincerely. He left a mark on me that I carry with me to this day in my own work in sociology and beyond. He really showed me you should take you work seriously and not seriously at the same time. He taught me if you can't create it and destroy it, laugh and cry about it, then it probably ain't worth doing. Thanks so much for walking with me briefly on this plain Charles and I look forward to you spreading your wisdom on all of us from that great beyond.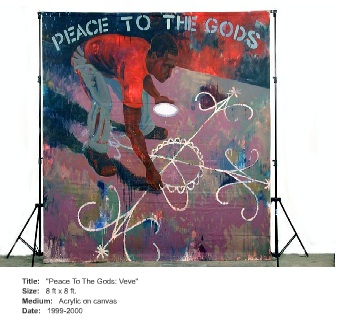 This is one the backdrops from his backdrops project, probably one of my favorite things he did (hopefully the links will get fixed so you can share his work).
Here are some links to reflections on Charles Huntley Nelson
Fahamu Pecou (where I learned of his passing)